How To Unite In Heart and Faith As A Christian Family?
For me, the phrase "Christian family" means my blood-related family, my church and my other extended brothers and sisters-in-Christ who attend churches other than my own church.
Church As Your Extended Family
---
Even though you and I may be of different denomination, we are still the body of Christ and Christ is the head of the Church. (Ephesians 5:23) Irregardless of our denomination, we gather together and be united in Christ because we are one body in Christ. (1 Corinthians 12:12)
Your Immediate Family
---
Have we, as a Christian family rise up and take up an active role in today's children? Are we united as a family? It is not an easy task and as Christian parents, we hope our children will grow in the grace and knowledge of our LORD Jesus Christ and walk in His footsteps. (Ephesians 1:17-19)
How many of us really do take time to pray and be united in spirit as a family? I am privilege to pray with the rest of the family daily before we start work proper. By the grace of God, I managed to take time to pray with my son before he goes to school and right before bedtime.
By praying together as a family regularly, there is unity even if there are difficulties along the way. By praying and being united in faith and heart together, the LORD is there in the midst of your family. (Matthew 18:20)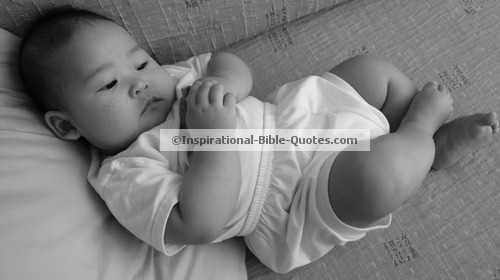 Some thoughts to ponder about...
Do you pray with

your husband

or wife daily? Do you love each other the way God loves you?
Do you spend time praying with your child and teaching them the ways of the LORD?
Have you been a good Christian

role model

towards your husband, wife or child?
In today's society, I find it is extremely important to communicate and impart our Christian walk to our children. As today's society, through music and television, exerts a kind of influence over our children, we need to direct their attention to what is good, pure and true. Today, there are simply too many distractions in the world to distract us from spending time with our loved ones and the LORD.
Hence, we need to rise up and take our positions as parents or as guardians and raise our children up in the ways of the LORD. Although it is easier said than done, with God's grace and wisdom, He will teach us how to be good parents to our children.
Therefore, as Christian parents and as husbands and wives, let us first be grounded in the Word of God and be established by His grace.
Jesus says in Matthew 5:14,16
14 You are the light of the world. A city that is set on a hill cannot be hidden.
16 "Let your light so shine before men, that they may see your good works and glorify your Father in heaven.
It is not easy but God has given us the strength in Christ.
Philippians 4:13
I can do all things through Christ who strengthens me.
Philippians 4:8 (Amp)
For the rest, brethren, whatever is true, whatever is worthy of reverence and is honorable and seemly, whatever is just, whatever is pure, whatever is lovely and lovable, whatever is kind and winsome and gracious, if there is any virtue and excellence, if there is anything worthy of praise, think on and weigh and take account of these things [fix your minds on them].
(The above Scripture quotation is taken from The Amplified Bible, Copyright ©1987 by The Lockman Foundation. All rights reserved. Used by permission.)
More Bible Verses On Marriage and Family
Bible Verses About Marriage
Discover the bible promises and truths God has for your husband, wife and child today!
Child Discipline
What did the Bible says about disciplining children? Is it true if we spare the rod, we spoil the child?
Bible Verses About Children
What are God's promises and instructions for your little ones?
Return from Christian Family to Inspirational Bible Quotes
Go To Bible Verses About Love from Christian Family