What Really is the Love of God? Do You Know How Much He Loves You?
What is the greatest love in the world? To me, it is the love of God. How about you?

John 3:16
For God so loved the world that He gave His only begotten Son, that whoever believes in Him should not perish but have everlasting life.

The LORD is there all the time...waiting with open arms...waiting to embrace us and hug us...waiting to commune with us.
The love of God. Have you embrace His love for you today?
When was the last time you really feel His love for you? But does it mean if you don't feel anything, He loves you less? Of course not.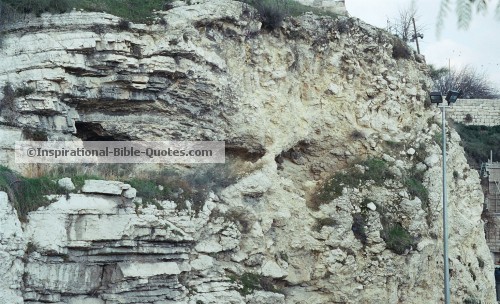 Golgotha, The Place of a Skull
John 19:17-18
17 And He, bearing His cross, went out to a place called the Place of a Skull, which is called in Hebrew, Golgotha,
18 where they crucified Him, and two others with Him, on either side, and Jesus in the center.
---
God is Love. If He is not Love, He will not come down from heaven to die for you and I.
From the beginning of days when Adam fell after he ate the fruit from the tree of the knowledge of good and evil (Genesis 3), the LORD has already prepared a plan of redemption for mankind.
Genesis 3:15
And I will put enmity between you and the woman,
and between your seed and her Seed;
He shall bruise your head and you shall bruise His heel.
The above Scripture of Genesis 3:15 is fulfilled as it is written in the book of Galatians 4:4-5.
4 But when the fullness of the time had come, God sent forth His Son, born of a woman, born under the law,
5 to redeem those who are under the law, that we might receive the adoption as sons.
Isaiah 53:4-5
4 Surely He has borne our griefs and carried our sorrows;Yet we esteemed Him stricken, smitten by God, and afflicted.
5 But He was wounded for our transgressions, He was bruised for our iniquities; The chastisement for our peace was upon Him, and by His stripes we are healed.


---
Do you know how much your Abba Father loves you?
1 John 4:9-10
9 In this the love of God was manifested toward us, that God sent His only begotten Son into the world, that we might live through Him.
10 In this is love, not that we loved God but that He loved us and sent His Son to be the propitiation for our sins.

God loves you so much that He knows the very number of hairs on your head.
Luke 12:7
But the very hairs of your head are all numbered. Do not fear therefore; you are of more value than many sparrows.

Romans 8:32
He who did not spare His own Son, but delivered Him up for us all, how shall He not with Him also freely give us all things?
Romans 8:37
Yet in all these things we are more than conquerors through Him who loved us.
1 Corinthians 2:12
Now we have received, not the spirit of the world, but the Spirit who is from God, that we might know the things that have been freely given to us by God.
---
Are you ready to know more about the love of God for you? Here goes...
Hebrews 13:5
...For He Himself has said, "I will never leave you nor forsake you."
Jeremiah 29:11
For I know the thoughts that I think toward you, says the LORD, thoughts of peace and not of evil, to give you a future and a hope.
Psalm 103:4-5
4...Who crowns you with loving kindness and tender mercies,
5 Who satisfies your mouth with good things, so that your youth is renewed like the eagle's.
Colossians 2:13
13 And you, being dead in your trespasses and the uncircumcision of your flesh, He has made alive together with Him, having forgiven you all trespasses
1 Thessalonians 5:9-10
9 For God did not appoint us to wrath but to obtain salvation through our Lord Jesus Christ,
10 who died for us, that whether we wake or sleep, we should live together with Him.

---
Wow! Isn't it comforting to know that you are in the LORD's thoughts? Isn't it amazing when there are millions and millions of people in the world but yet it seems you are the only one in His thoughts?
Hope you stay strong in the power of His might, being rooted in Christ's love for you.
Even if times are rough, it is the love of God that stables you and gives you the hope and faith to carry on. Your Abba Father is always there for you.
So keep close and together with thanksgiving, declare His wondrous love for you and see the hands of God working in your life!


Return to Inspirational Bible Quotes from Love of God

Return to Bible Verses About Love