Can You Find Yourself In The Prosperity Scriptures?
Prosperity Scriptures...Do you see yourself in these bible verses?
Do you feel you are lacking in finances?
Are you worried about tomorrow? (Phil 4:19)
Do you know God has given you the power to get wealth? (Deut 8:18)
Are you ready for God to rain down His blessings on you?(Deut 28:12-13)
Do you know God takes pleasure in your prosperity? (Psalm 35:27)
So see yourself prospering and feel yourself prospering. Believe on the bible promises, declare the bible verses aloud and the physical manifestation will come to pass.
Who Are The Prosperous People In The Bible?
---
Abraham, Isaac and Jacob were exceedingly prosperous. The LORD prosper them greatly as they seek His face. King Solomon was and still is the richest man on earth. How you feel today in your current finance situation is not a true indication of your financial standing.
You have a Father, your Abba Father who owns everything in the universe. All you need to do is to approach your heavenly Father. Ask, seek and knock and your heavenly Father is more than willing to pour forth good things to those who ask Him! (Matthew 7:11)
If you feel you are lacking in finances, look at the plants that broke through the pavements or rocks. These plants created life in places that have no life.
How about you? As a child of God, do you know you have the ability to call things that do not exist as though they did? Are you taking hold of God's promises for you today?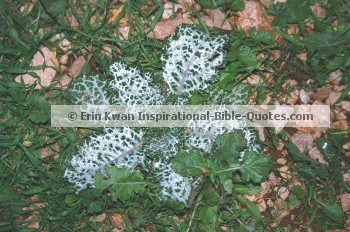 One of our pastors shared his testimony with us. He was heavily in debts long before he came to believe in Christ. After he believed in Jesus and claim the prosperity scriptures and stood fast upon God's promises for his life, all of his debts are supernaturally cancelled. Your Abba Father can do the impossible isn't it? After all, He is God.
Find Yourself In These Prosperity Scriptures!
---
Deuteronomy 8:18
"And you shall remember the LORD your God, for it is He who gives you the power to get wealth, that He may establish His covenant which He swore to your fathers, as it is this day.
2 Corinthians 8:9
For you know the grace of our LORD Jesus Christ, that though He was rich, yet for your sakes He became poor, that you through His poverty might become rich.
Philippians 4:19
And my God shall supply all your need according to His riches in glory by Christ Jesus.
Psalm 34:10
...those who seek the LORD shall not lack any good thing.
Romans 8:32
He who did not spare His own Son but delivered Him up for us all, how shall He not with Him also freely gives us all things?
Deuteronomy 28:12-13
The LORD will open to you His good treasure, the heavens, to give the rain to your land in its season, and to bless all the work of your hand. You shall lend to many nations, but you shall not borrow. And the LORD will make you the head and not the tail; you shall be above only, and not be beneath.
Keep on claiming the prosperity scriptures for yourself and your loved ones. The physical manifestation of your prayer may or may not happen immediately and remember that in all things, give thanks (1 Thess 5:18) because your God loves you.
Return to Biblical Prosperity from Prosperity Scriptures
Return to Inspirational Bible Quotes